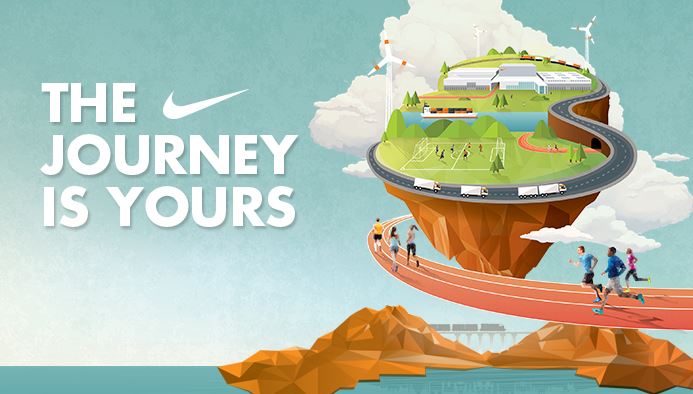 Become a Part of the NIKE, Inc. Team
NIKE, Inc. does more than outfit the world's best athletes. It is a place to explore potential, obliterate boundaries and push out the edges of what can be. The company looks for people who can grow, think, dream and create. Its culture thrives by embracing diversity and rewarding imagination. The brand seeks achievers, leaders and visionaries. At Nike, it's about each person bringing skills and passion to a challenging and constantly evolving game.
Nike Supply Chain experts ensure that every year 900 million pieces of footwear, apparel and equipment arrive at the right destination on time. That's no easy task. The complex process involves more than 50 distribution centers, a network of thousands of accounts, and more than 100,000 retail stores around the world. Supply Chain professionals from Laakdal, Belgium, to São Paulo, Brasil, make it happen. They constantly push for ways to make Nike's supply chain faster, more efficient and more responsive to Nike's always-changing consumer needs.
Description
A Goods Flow Planning lead is responsible for the daily planning of an optimal flow of goods through the supply chain, whereby the delivery of the product is tailored to the demands of the marketplace. The balance between customer satisfaction, capacities, costs and sustainability is crucial. You support and guide your team in continuous process improvements. You also use data and analysis to improve service to our consumers.
READY?
You organize the planning process according to service expectations and priorities from the market, taking into account logistic capacities.
You monitor the processes and procedures according to agreed service levels.
You lead, coach, drive and inspire your team.
You are fascinated by changes and are motivated to involve your team in these transitions
You build strong partnerships within the broader Nike organization to improve the service to the market.
You are constantly looking for innovation to improve our planning processes and to increase service and efficiency, supported by KPIs.
You ensure clear and efficient internal communication.
Qualifications
SET?
You have a service mindset
You have a broad general supply chain knowledge and you have at least 3 years' experience in a planning or logistics function. Experience leading people is a plus.
You understand the impact of decisions and events on the entire logistical flow of goods.
You are a team player with capacity to lead and you have a passion to develop talent.
You can work independently, and you take responsibility.
You are flexible and stress resistant.
You are a fluent communicator in English: spoken and written, informal and formal (Dutch is a plus)
Run for gold ...
Our informal dress code ensures an enthusiastic and relaxed working atmosphere.
You can count on a competitive package (lunch vouchers, hospitalization insurance, pension savings plan, kilometer and bicycle allowance, ...)
Make free use of our sports complex to push your physical boundaries: running track, beach volleyball and tennis courts, fitness, sports and squash rooms ...
The Goods Flow Planning Manager will coach, inspire and further develop you so that your talent keeps moving.
GO!
Rules
First selection based on CV and motivation letter
Second step online PC testing of learning potential
Interview HR
Next selection round is an assessment and an interview with the hiring manager (s).
The finish is in sight: after a final interview with a Manager + 1 level we will decide whether you will be a part