28 February 2022
Top 10 largest logistics companies in Belgium 2020
Every year, link2LOGISTICS Management, published by TransportMedia, compiles a list of Belgium's logistics companies ranked according to several criteria, including their warehousing space and their added value. Today, we reveal which companies made it into the top 10 in both categories in 2020.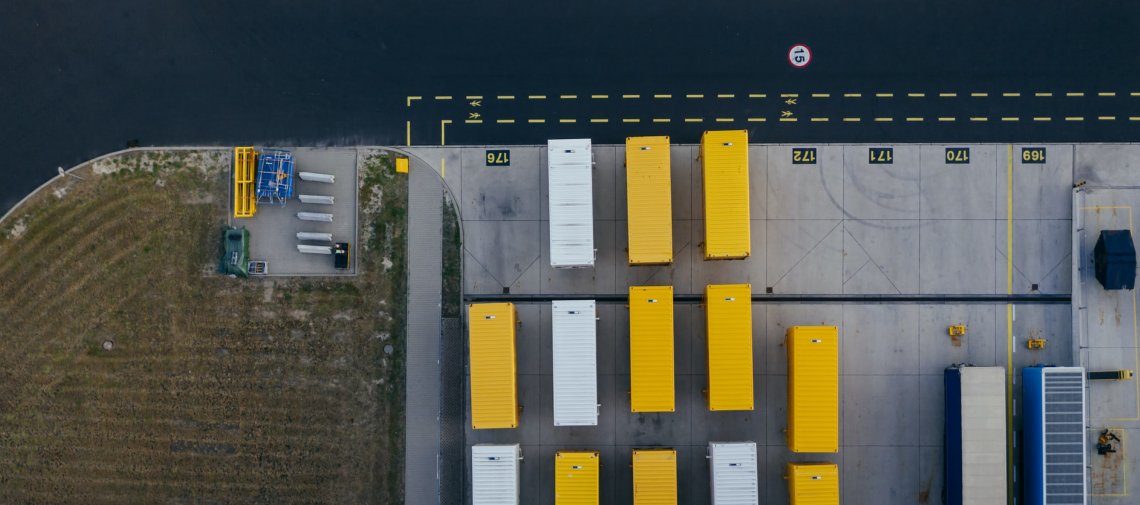 Top 10 logistics companies with the largest warehouse space
Why should we care about a logistics company's warehouse space as well as its added value? When it comes to a company's warehouse space, it is mainly a question of capacity: the more storage space a company has, the more it is able to handle large quantities and thus meet a high demand. The more storage space a company has, the more power it has, so to speak.
Here are the 10 logistics companies in Belgium in 2020:
10. Deutsche Post - 328,925 m 2
The German post office has a leading position both in its home country and in the rest of Europe. Its parcel and courier company DHL is well known.
9. Jost - 367,500 m 2
The Belgian group, whose success continues, has about ten warehouses in Belgium, most of them in Wallonia.
8. Kuehne + Nagel - 409,400 m 2
The world leader in maritime transport, the group, whose headquarters are in Switzerland, has several warehouses in Flanders.
7. Distrilog - 445,000 m 2
Since its foundation in 1991, the logistics group, which mainly offers its services in the BeNeLux, has opened numerous warehouses in Belgium
6. Van Moer - 476,100 m 2
In addition to its warehousing capacity, the company has 500 trucks and employs no less than 1,450 people.
5. SEA-Invest - 489.900 m 2
SEA-Invest is one of the world's leading terminal operators. Logically enough, its warehouses are located in Antwerp, Zeebrugge and Ghent.
4. Euroports - 611,250 m 2
One of the largest port infrastructure companies in Europe, it handles more than 60 million tons of goods per year in Europe.
3. Tabak Natie - 869,000 m 2
The name Natie refers to the history of the port of Antwerp. In the 19th century, the Naties were guilds specializing in the management and transport of goods between the docks and warehouses.
2. H. Essers - 898,300 m 2
The company, based in Ghent, is active throughout Europe, although most of its warehouses are located in Belgium
1. Katoen Natie - 2,458,000 m 2
That's about 246 soccer fields.
In total, all companies combined, approximately 19,055,000 m 2 of storage space have been built in 2020 in Belgium.
Top 10 logistics companies with the highest added value
The added value figure gives an idea of the new wealth generated by a company. The higher this figure is, the more it is the sign, in general, of a healthy company, in full growth. Here are the top 10 logistics companies that managed to generate the most added value in Belgium in 2020:
10. Jost - 108,496 (x 1,000 €)
The Walloon logistician also makes its way into this second top 10.
9. DSV - 117,008 (x € 1,000)
As a reminder, DSV acquired the Swiss logistics and international transport company Panalpina in April 2019 for the sizable sum of $4.6 billion.
8. Kuehne + Nagel - 135,802 (x €1,000)
In the same position as in the top 10 in terms of warehouse space!
7. UPS - 167,360 (x € 1,000)
The American multinational postal company is making a good name for itself in Belgium with its Belgian branch, UPS Belgium.
6. SEA-Invest - 195.459 (x 1.000 €)
The maritime sector is on a roll!
5. PSA - 202.921 (x 1.000 €)
PSA International is a leading port group. A large part of its activities are located in Singapore and Antwerp.
4. H. Essers - 250.775 (x € 1.000)
A more than honorable figure for the year 2020!
3. Fedex - 288.457 (x € 1.000)
Known for its balloon wisely placed in the movie Cast Away, the American multinational also had good results in 2020.
2. Katoen Natie - 350.654 (x 1.000 €)
First in the top 10 in terms of warehouse space, Katoen Natie also takes second place in terms of added value: a Belgian giant!
1. Deutsche Post - 384.103 (x 1.000 €)
No. 10 of the first top, Deutsche Post has climbed to the first place here. In total, its various DHL branches employ more than 4,500 people in Belgium.
The total added value of Belgian third-party logisticians in 2020 was 5.43 billion. This represents an increase of 3.2% in total added value compared to 2019: a smaller increase than in previous years, but nonetheless reassuring when one considers the very complicated context of 2020, during which most economic sectors have suffered a recession.
This stability in the logistics sector is explained by the e-commerce boom that Belgium, like many other Western countries, experienced at a time when people were confined to their homes.
A promising sector for employment
These statistics indicate a stable, healthy and growing sector. In a word: promising. It's also the ideal sector for finding employment: the shortage of workers in the sector is no longer in question, and employers need to adapt their recruitment strategies for the benefit of workers.
Don't wait any longer and apply now for a job in transport and logistics. Find more than 1250 job offers on TL-Hub, the #1 recruitment platform specialized in transportation, logistics and supply chain!