08 December 2022
Interview with Eline from Manuchar: "Every employee plays an active part in our success story"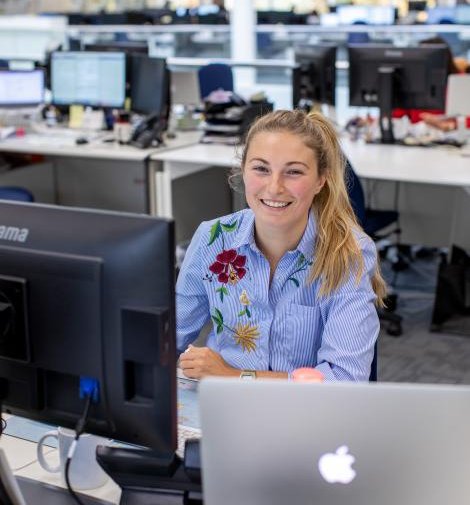 "Every employee plays an active part in our success story. At Manuchar, we support every talent in finding his/her career path within an inspiring international working environment. For the position of trader, we're looking for an ( experienced) commercial colleague to help us expand our business. The main objective of the Trader is to grow a portfolio of profitable customers & transactions through the creation of strong relationships with trustworthy customers and suppliers within the emerging markets. As a Trader you take responsibility to set and pursue the (trading) market development strategy for your assigned region and actively participate in setting the global strategy for your product portfolio. The Trader reports to the BU Manager. Frequent travel to the assigned region and occasional global travel will be needed.
Eline Matthysen's experience as Junior Trader Chemicals East-Africa:
"In 2017 I graduated and immediately started working at Manuchar. I was one of the youngest employees back then. At that age, deciding on a career path can be scary! But I have never regretted joining Manuchar. I've moved from Trade Administrator, to Sales Support and then to Junior Trader. Today I find myself working in a flexible, caring company full of driven and supportive people. I am in contact with colleagues, suppliers and customers from all over the world on a daily basis. My role is to take care of customers' needs for raw materials and finding them the most competitive price. I'm very grateful to Manuchar for having considered my professional aspirations and for giving me the opportunity to take my career to the next level. Manuchar has stimulated and supported me in developing myself professionally as well as personally. I'm sure it will continue to do so in the future!"
Manuchar, headquartered in Antwerp, Belgium is a leading distributor of chemicals in emerging markets. We complement our Chemical Distribution business with International Trade Services in steel, polymers and several other raw materials.In 2021 we handled 4.6 million metric tons of goods, generating 2.5 billion USD in sales. Our local operations are in over 35 countries and 170 locations. Manuchar employs 2,200 professionals worldwide.
At Manuchar "We keep your production running. Anytime. Anywhere."
Manuchar is a caring and responsible organization. Our mission extends beyond commercial endeavours to making our world a better place to live. We are strongly committed to contributing to the betterment of society. Therefore, we have developed a global We Care program to demonstrate our commitment to care for the environment, our employees and our local communities and to uphold the highest ethical standards throughout the whole supply chain.
"Contributing to the betterment of society is part of our mission. Caring for the environment and for our local communities while upholding the highest ethical standards throughout the whole supply chain is not only an integral part of our business; it's our commitment – the promise of a brighter future for every life we touch." Philippe Huybrechs, Group CEO