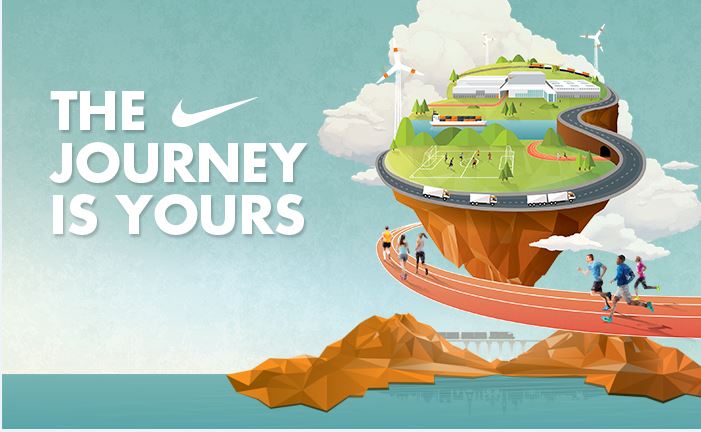 Become a Part of the NIKE, Inc. Team
NIKE, Inc. does more than outfit the world's best athletes. It is a place to explore potential, obliterate boundaries and push out the edges of what can be. The company looks for people who can grow, think, dream and create. Its culture thrives by embracing diversity and rewarding imagination. The brand seeks achievers, leaders and visionaries. At Nike, it's about each person bringing skills and passion to a challenging and constantly evolving game.
The Nike, Inc. Supply Chain team is the engine that propels product around the world. Supply Chain experts ensure that every year, almost a billion units of footwear, apparel and equipment arrive at the right place, at the right time. To ensure this complex job goes off without a hitch, Supply Chain teams work with a network of more than 50 distribution centers, thousands of accountants, and more than 100,000 retail stores worldwide — making the impossible happen every single day.
Description
Nike is looking for a Manager Logistics Performance Management in EMEA. In this role, you are responsible for Logistics KPI management, Service Performance Management and Governance. Your goal is to ensure Nike Logistics has the right Consumer driven KPI's in place across the core Functions of Distribution, Goods Flow Planning and Transportation to measure Service Performance and to enable stakeholders across the EMEA Supply Chain organization to make key business decisions based on these KPI's that further our mission.
In co-operation with Technology and other business functions, you further design, develop and measure our KPI's, Service Performance Management Structure and Governance Model to drive improved and pro-active decision making and process improvement.

You'll also be working closely with leaders in end-to-end supply chain functions across Demand Supply Management, and Integrated Marketplace Operations. You will develop, lead, coach, drive and inspire a Logistics Performance Management Team and contribute to the overall Performance Management community within Nike.

Successful candidates will possess strong analytical capabilities, deep communication skills, a passion for structure and KPI's/Metrics and robust experience with Logistics operations. You will also have a strong Service Mindset, the ability to look End-to-End across the Value Chain and think from the Consumer. Additionally, they will demonstrate the ability to collaborate with different functions across a matrix organisation, focus on achieving practical business impact and work at both working team and executive levels.

READY?
Ensuring Quality, On-time relevant KPI Reporting is in place to manage Logistics Service Performance
Developing and manging a KPI Framework & Service Levels that are aligned with key internal stakeholders and is a true indicator of the Logistics Performance in the eye of the Customer & Consumer
Design, develop and run a Governance framework across the Nike Supply Chain Operations Organization to drive Logistics Service Performance and KPI's, ensuring closed loop follow-ups
Provide input to analytics solutions to enhance Nike EMEA's Logistic operations via business intelligence, descriptive and predictive analytics
Drive cross-functional improvements to service performance, working closely together with colleagues within Goods Flow Planning and other Nike teams (e.g. Integrated Marketplace, Demand Supply Management & Technology)
Influence Nike's Logistics organization to move to automatic data driven process and decision making
Instil analytics solutions that measure our Service Performance into day-to-day workings of the Logistics Operations
Establish, grow and maintain Service Performance Management related tools, information base and processes.
Actively work with analytics vendors especially in Logistics to build out capabilities
Enable the skill set of a multi-disciplinary team to become key decision influencers
SET?
Minimum of 5-7 years' experience in Performance Management/Information Management with a strong focus on Logistics, based on which the candidate should have developed sound business/commercial judgment and critical thinking. Experience working for a multi-national in a strategic role.
Experienced in set-up and built out of a Data Driven Performance Management Organization
Advanced knowledge on Logistics operations, experience in Retail/Digital a big plus
Strong cross-functional management capability to drive timely business impact working with diversified teams
Strong people management capability
Effective communication and strong interpersonal skills, with capacity to interact with all levels in the organization (including regular exposure to senior management)
Strong problem solving capability to tackle complicated issues
Bias for action, drive for results while demonstrating positive attitude and enthusiasm
GO!
Applicable rules:
A first selection will be made on the basis of your CV and letter of motivation (experience, knowledge and skills)
We will then make a further selection based on PC tests considering your learning ability and personality
The third step in the selection process involves interviews with the hiring managers.
Final interview with the hiring managers +1
We will then decide whether you will join our team.
NIKE, Inc. is a growth company that looks for team members to grow with it. Nike offers a generous total rewards package, casual work environment, a diverse and inclusive culture, and an electric atmosphere for professional development. No matter the location, or the role, every Nike employee shares one galvanizing mission: To bring inspiration and innovation to every athlete* in the world.
NIKE, Inc. is committed to employing a diverse workforce. Qualified applicants will receive consideration without regard to race, color, religion, sex, national origin, age, sexual orientation, gender identity, gender expression, veteran status, or disability.