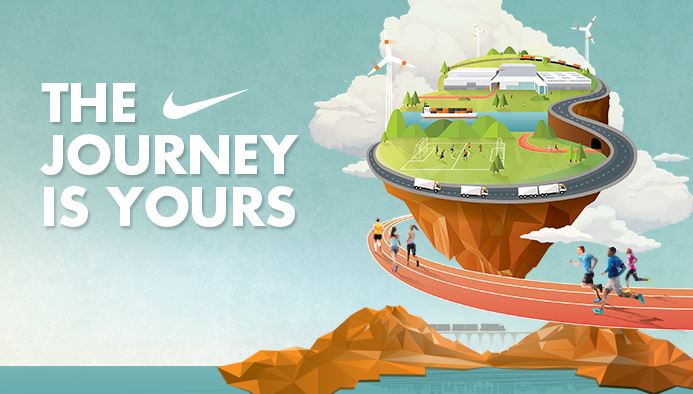 Become a Part of the NIKE, Inc. Team
NIKE, Inc. does more than outfit the world's best athletes. It is a place to explore potential, obliterate boundaries and push out the edges of what can be. The company looks for people who can grow, think, dream and create. Its culture thrives by embracing diversity and rewarding imagination. The brand seeks achievers, leaders and visionaries. At Nike, it's about each person bringing skills and passion to a challenging and constantly evolving game.
Nike Supply Chain experts ensure that every year 900 million pieces of footwear, apparel and equipment arrive at the right destination on time. That's no easy task. The complex process involves more than 50 distribution centers, a network of thousands of accounts, and more than 100,000 retail stores around the world. Supply Chain professionals from Laakdal, Belgium, to São Paulo, Brasil, make it happen. They constantly push for ways to make Nike's supply chain faster, more efficient and more responsive to Nike's always-changing consumer needs.
Description
The consumer is at the center of what we do. To increase our service and grow key channels in our integrated marketplace, Nike is looking for a
Business Integration Manager, focused on Channel service performance(Temp one year contract). In this role, you are responsible to maximize operational reliability and drive End-2End improvements in our logistics processes for key channels, to ensure a top-quality consumer experience. You report to the Goods Flow Planning Sr. Director.
READY?
Managing for operational excellence, you:
Act as the primary owner within ELC for service performance management of our logistics operations (consumer-facing metrics).
Drive end-to-end decisions and move people to take desired action. Understand and translate business requirements and customer expectations.
Serve as escalation point for both EHQ and ELC for Channel related topics.
Manage a virtual team of functional accountable representatives in Goods Flow Planning, Distribution, Transportation and Technology. You ensure the common goal of the team is high quality consumer experience.
Develop plans and daily management metrics in support of the successful execution of the Channel growth and service aspirations. Your preparation ensures that work is accomplished efficiently.
Facilitate cross functional collaboration amongst operational owners to set the Channel at the right priority.
Effectively communicate and bring transparency on planned and unplanned marketplace events, issues and actions.
Lead for process End-2-End improvements, using a methodical process of analyzing problems, gathering information, generating options and tracking status.
Qualifications
SET?
Reasoning on Master level and 5 years experience in Logistics.
Consumer/customer oriented with good understanding of sports retail business.
People management to lead a cross functional virtual team.
Strong networking and influencing skills to establish and maintain partnerships across the organization.
Systems Thinking: Understand how changes in one part will affect the whole.
Initiative: Being proactive and self-starting. To begin or to follow through energetically with a needed plan or task.
Communication: fluent in English, knowledge of Dutch is an asset. Informal and formal communication to different stakeholders. Strong in meeting facilitation.
Experienced in MS Office modules and ERP (SAP) / WMS Systems.
You have a workpermit for Belgium and drivers license B.
Flexible, frequent travel to EHQ (Hilversum, The Netherlands).
Run for Gold...
No formal suits in the office, wear only what suits you best!
A competitive package (company car, luncheon vouchers, hospitalization insurance, events, …)
Stay fit at our local sport facilities and push your physical boundaries (fitness, track & field, beach volleyball, tennis courts, squash courts, soccer pitch, …)
Your Sr. Goods Flow Planning Director will lead, coach, drive and inspire you!
GO!
Next steps:
Selection based on CV and motivational letter
Phone interview
PC-testing of knowledge and skills.
Interview(s) with hiring management.
Final Interview.
Decision and communication.
NIKE, Inc. is a growth company that looks for team members to grow with it. Nike offers a generous total rewards package, casual work environment, a diverse and inclusive culture, and an electric atmosphere for professional development. No matter the location, or the role, every Nike employee shares one galvanizing mission: To bring inspiration and innovation to every athlete* in the world.
NIKE, Inc. is committed to employing a diverse workforce. Qualified applicants will receive consideration without regard to race, color, religion, sex, national origin, age, sexual orientation, gender identity, gender expression, veteran status, or disability.